GBGB Greyhound of the Year 2020 Award Winners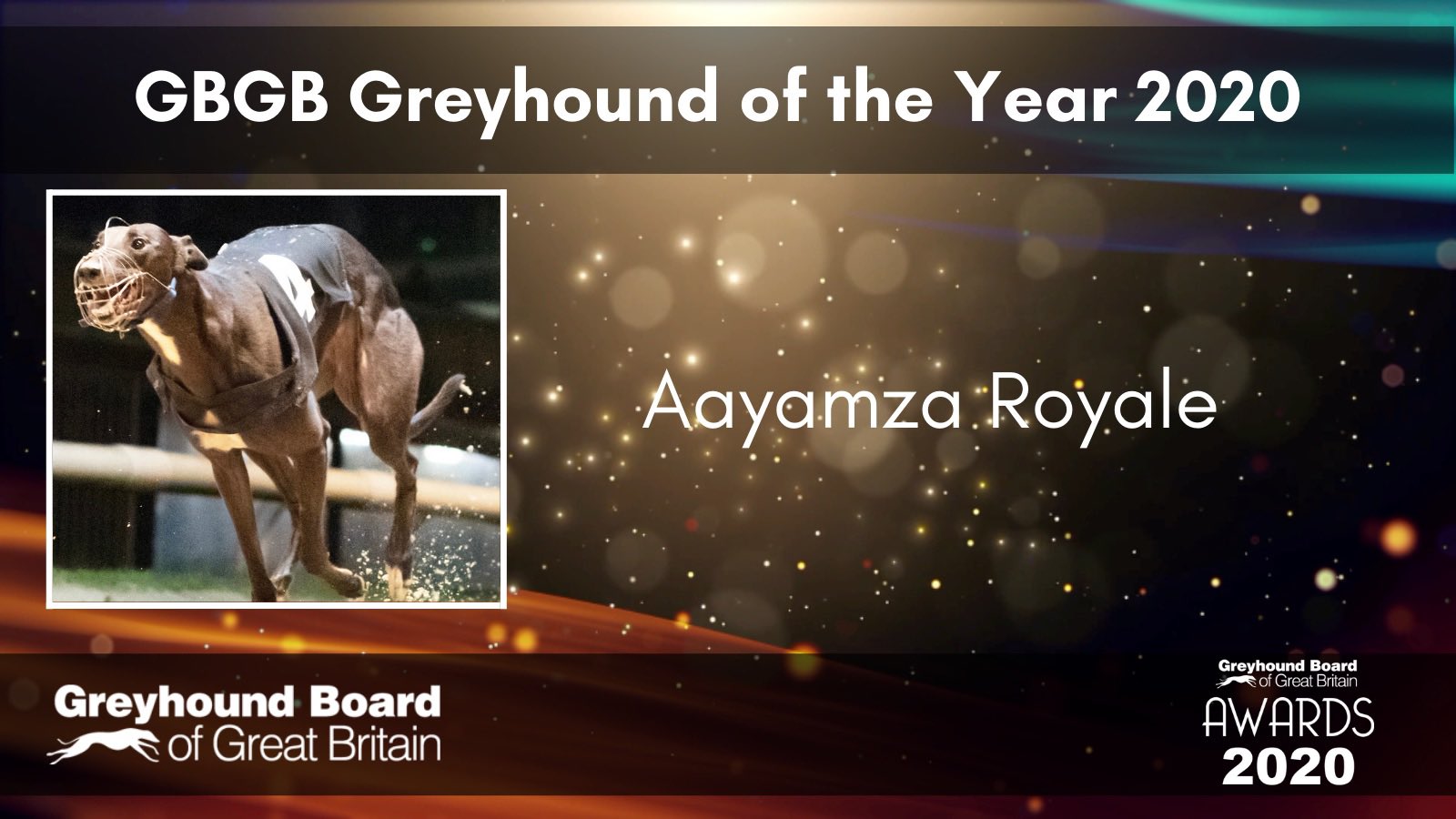 It was a GBGB Awards ceremony with a difference this year, as the canine stars of 2020 were celebrated at a special virtual event held and broadcast online on the evening of Sunday 14th February.
The ceremony, hosted by Darrell Williams and Jonathan Hobbs, gave viewers a chance to look back at the racing highlights of 2020 and the phenomenal performances of our sport's top athletes. This year, the most hotly contested award of the night, the GBGB Greyhound of the Year 2020, was won by Aayamza Royale, trained by Mark Wallis for the Ayamzaboys Syndicate.
The evening was also an opportunity to recognise the hard work and dedication of the trainers, owners and kennelhands who care for our canine athletes and ensure they have everything they need to perform at their very best.
Congratulations to connections of all the nominees and award winners.
For those who missed the live ceremony, or want to replay any key moments, a catch-up recording of the broadcast, with complete versions of every video clip (including the few affected by technical issues on the night) is available here.
The 2020 category Award winners are:
BAGS Kennelhand of the Year – Megan Flood
GWA Services to Greyhound Racing – Ben Keith
GBGB Best Dam of British Bred – Skate On
Owners: K.S.S. Syndicate
GBGB British Bred Greyhound of the Year – Queen Jessiej
Owners: K.S.S Syndicate
Trainer: Liz McNair
 ARC Graded Greyhound of the Year – Cold Mountain
Owners: William Adamson, Martin Lloyd & Lee Onions
Trainer: Paul Sallis, Monmore
 GBGB Newcomer of the Year – Tenpin
Owners: Kane Messenger, Michael Olley & Robert Olley
Trainer: David Mullins
 Ladbrokes Trainer of the Year – Patrick Janssens
Coral Owner of the Year – K.S.S. Syndicate
Star Sports Bitch of the Year – Queen Jessiej
Owners: K.S.S. Syndicate
Trainer: Liz McNair
Colossus Hurdler of the Year – Roxholme Biscuit
Owner: Hayley Keightley
Trainer: Ricky Holloway
 GBGB Marathon Performer of the Year – Aayamza Royale
Owners: Ayamzaboys Syndicate
Trainer: Mark Wallis
Charles Russell Speechleys Sprinter of the Year – Shrewd Call
Owner: Kelly Searle
Trainer: David Mullins
PA Betting Services Standard Distance Performer of the Year – Kilara Lion
Owners: Chris Crampton, Harry Crapper, David Priestley & Nigel Thomas
Trainer: Patrick Janssens
Racing Post Greyhound TV Stayer of the Year – Smallmead
Owners: Lee and David Calcutt
Trainer: David Mullins 
GBGB Greyhound of the Year – Aayamza Royale
Owners: Ayamzaboys Syndicate
Trainer: Mark Wallis